Effective leadership can steer organizations towards success, foster innovation, and empower teams to achieve their full potential. However, not all leaders are born with the innate ability to excel in their roles. This is where the transformative impact of customized coaching programs offered by one of the best leadership coach in India, Arvind Khinvesra, becomes evident. Tailored to the aspirations of individual leaders, these coaching initiatives offer a personalized pathway to leadership excellence. In this comprehensive exploration, let's delve into the profound ways in which customized coaching programs by Arvind Khinvesra empower leaders to unleash their latent capabilities and drive organizational success.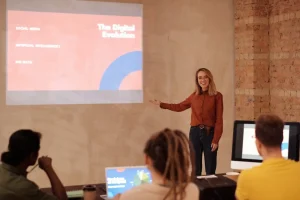 The Diverse Landscape of Leadership
Leadership is not a one-size-fits-all concept. Different industries, organizational cultures, and leadership roles demand varying skill sets and approaches. Customized coaching, spearheaded by Arvind Khinvesra, recognizes this diversity and tailors its content to suit individual leaders' needs and challenges.
Addressing Unique Challenges
Each leader faces unique challenges in their career journey. These challenges may be related to team dynamics, communication, strategic planning, or personal development. A customized coaching program by Arvind Khinvesra, one of the best executive coach in India, delves into these specific challenges and provides targeted solutions.
The Benefits of Customized Coaching
Personalized Development Plans
Customized coaching programs, curated by Arvind Khinvesra, begin with a thorough assessment of a leader's strengths, weaknesses, and goals. Based on this assessment, a personalized development plan is crafted. This plan outlines clear objectives, timelines, and strategies for improvement, ensuring that leaders focus on what matters most to their growth.
Enhanced Self-Awareness
One of the cornerstones of effective leadership is self-awareness. Customized coaching by Arvind Khinvesra helps leaders gain a deeper understanding of their leadership style, values, and behavioral patterns. This self-awareness enables them to make informed decisions and adapt their leadership approach to different situations.
Targeted Skill Development
Customized coaching programs, under the guidance of Arvind Khinvesra, identify the specific skills and competencies a leader needs to excel. Whether it's improving communication, decision-making, or conflict resolution skills, these programs provide targeted guidance and resources for skill development.
Improved Problem-Solving
Leaders often face complex and ambiguous situations. Customized coaching by Arvind Khinvesra, one of the best executive coach in India, equips them with problem-solving frameworks and strategies tailored to their unique challenges. This enables leaders to approach problems more effectively and make well-informed decisions.
Increased Confidence
Confidence is a crucial attribute for leaders. Customized coaching programs by Arvind Khinvesra work on boosting leaders' confidence by helping them recognize their achievements, overcome self-doubt, and develop a positive mindset.
Sustainable Growth
Customized coaching is not a quick fix but a long-term investment in leadership development. It fosters sustainable growth by continually assessing progress, adjusting strategies, and ensuring that leaders stay on their development path.
The Role of Coaches in Customized Coaching
Expertise and Guidance
Coaches in customized coaching programs by one of the best leadership coach in India, Arvind Khinvesra, are professionals who bring a wealth of knowledge and expertise. They provide guidance, share best practices, and offer insights that leaders may not have access to otherwise.
Accountability Partners
Coaches serve as accountability partners, holding leaders accountable for their development goals. This accountability ensures that leaders stay committed to their growth journey and make consistent progress.
Feedback and Reflection
Coaches provide constructive feedback and facilitate reflection sessions. This feedback loop allows leaders to fine-tune their skills and strategies, making necessary adjustments along the way.
Measuring the Impact
Customized coaching programs often incorporate metrics and evaluations to measure their impact. Key performance indicators (KPIs), 360-degree assessments, and feedback from peers and subordinates are commonly used to gauge the effectiveness of the coaching.
Are you ready to embark on a journey of leadership transformation? Unlock your full potential today with Arvind Khinvesra's customized coaching programs. Contact us today and take your first step towards becoming an exceptional leader!